Mr. Tu
Phone: 13919106009
Email: tujianhua@126.com
Sales Manager
Mr. Lin: 0571-87605270
0571-88834281
Email: 570989546@qq.com
Fax: 0571-88834281
address: Room 1105, Building 8, Taihe Plaza, Shangcheng District, Hangzhou, Zhejiang Province

High pressure direct drain with drain
The continuous discharge of boiler water in the power station boiler is about 3% of the evaporation . 75 ℃ 左右的饱和水进入定排扩容器 , 最后外排 。 For high-pressure boilers, continuous expansion vessels are generally set up. High-pressure saturated water flashes out part of the steam in the continuous expansion vessels and is recycled. The remaining saturated water with a temperature of about 1 75 ℃ enters the fixed expansion vessels . Row . 0 ℃ 以下才能排放 。 Regardless of whether it is directly discharged or discharged after expansion, there is waste of waste heat. In addition, flash steam also affects the visual environment of the plant. Hot water also needs to be mixed with cold water and cooled to below 60 ° C to be discharged . 6 0 ℃, 则不仅回收了余热 , 还减少了污染 , 节约了用水 , 是一举多得的措施 。 If the continuous drainage can be directly cooled to 60 ° C, not only the waste heat is recovered , but pollution is also reduced and water is saved . This is a multi-pronged measure .
, 就是针对高温高压高盐浓度的连排水余热利用问题 , 可以把连排水或者连排扩容器后面的剩余连排水 , 降温到 6 0 ℃ 左右 , 回收其热量 。 Hangzhou Dika's patented product is aimed at the utilization of waste heat from continuous drainage at high temperature, high pressure, and high salt concentration. The residual continuous drainage from the continuous drainage or the continuous expansion expansion vessel can be cooled to about 60 ° C to recover its heat .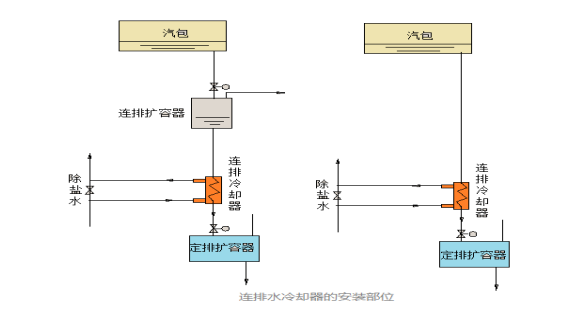 : Features of high pressure direct drain cooler :
安全性 : 换热管为经过探伤的钢管弯制而成 , 没有缺陷点 , 绝不会泄漏 ▲ Safety : The heat exchange tube is made of bent steel pipe after flaw detection , there is no defect point , and it will never leak.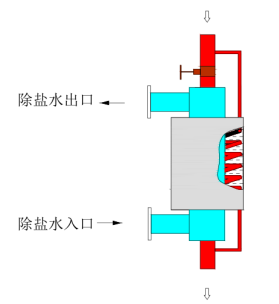 耐压高 : 连排水走管程 , 管径小 , 可承受高压 。 ▲ High pressure resistance : even if the pipe is drained , the diameter is small and it can withstand high pressure .
高效率 : 直接将高温水冷却到 6 0 ℃, 热效率高于 8 0 %。 ▲ High efficiency : The high-temperature water is directly cooled to 60 ° C, and the thermal efficiency is higher than 80 %.
节水减排 : 没有闪蒸汽放散 , 排水不需要掺混冷水 。 ▲ Water saving and emission reduction : no flash steam is released , and no need to mix cold water for drainage .
管内流速高,流场复杂,管壁不结垢。 ▲ No scaling: The tube has a high flow velocity, the flow field is complicated, and the tube wall is not scaling.
: Energy-saving benefits of high-pressure direct drainage cooler :
, 吸热后相应减少了除氧器的蒸汽耗量 。 Assume that the water supply of the boiler is used to cool the water . After heat absorption, the steam consumption of the deaerator is reduced accordingly . 0 .8MPa250 ℃ 的供热蒸汽 , 每吨蒸汽 1 30元计算 , 则 2 t/h连排水量的节能经济性如下表 : If the heating steam at 250 ℃ at 0.8 MPa is calculated as RMB 1.30 per ton of steam , the energy-saving economy of 2 t / h with drainage volume is as follows :
Pa With drainage pressure M Pa

With drainage temperature

℃

/h With drainage flow t / h

Available waste heat with drainage

W K W

Converted to save steam

/h t / h

Annual operating hours

h

Annual energy saving benefits

(Ten thousand yuan)

.8 0 .8

75 1 75

2

70 2 70

50 3 50

000 5 000

3 2 3

.3 5 .3

66 2 66

2

10 5 10

60 6 60

000 5 000

3 4 3