Mr. Tu
Phone: 13919106009
Email: tujianhua@126.com
Sales Manager
Mr. Lin: 0571-87605270
0571-88834281
Email: 570989546@qq.com
Fax: 0571-88834281
address: Room 1105, Building 8, Taihe Plaza, Shangcheng District, Hangzhou, Zhejiang Province

-
蒸汽加热消白系统
Flue gas condensation
-
steam heating and whitening system
Reducing the temperature of saturated wet flue gas can reduce the temperature required for heating and save energy consumption. 20t/h 锅炉的 5 0 ℃ 对应的 3 10000Nm3/h 的烟气量为例 , 如果通过冷凝降低到 4 5 ℃ , 可以产生 7 .7t/h 的凝结水 。 Taking the flue gas amount of 3 10000 Nm3 / h corresponding to 50 ℃ of a 220 t / h boiler as an example , if it is reduced to 45 ℃ by condensation , it can produce 7.7 t / h of condensed water . The condensed water can be recovered as the process water of the desulfurization tower. M2.5 的排放是非常有利的 。 As the water vapor of the flue gas needs to be condensed with fine dust when condensing, this is very beneficial for reducing PM2.5 emissions .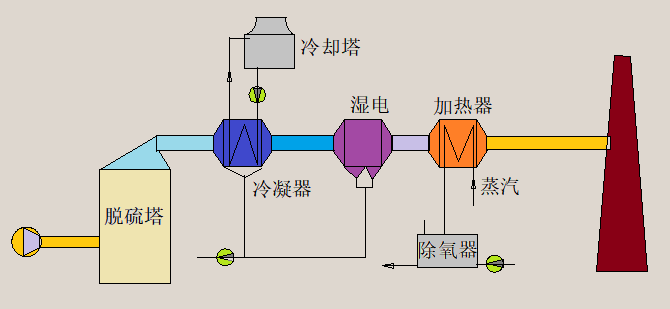 冷凝器 湿烟气可用循环冷却水进行冷凝 , 吸热后的冷却水通过冷却塔冷却 。 ▲ Condenser wet flue gas can be condensed with circulating cooling water , and the cooling water after heat absorption is cooled by a cooling tower . , 因此需要大量的循环水 。 Because the heat released by the condensation of the flue gas is very large , a large amount of circulating water is required . - 蒸汽加热的烟气消白系统如下图所示 : Flue gas condensation - steam heated flue gas whitening system is shown in the following figure :
布置在脱硫塔后面,湿电前面,将烟气温度由 5 0 ℃ 以上冷却到 4 5 ℃ 左右 。 The condenser is arranged behind the desulfurization tower and in front of the wet electricity, and the flue gas temperature is cooled from above 50 ℃ to about 45 ℃ . 可用 S S2205 或 P TFE 材质制作 。 The condensed water of the condenser is weakly acidic, which can be used directly for desulfurization process water or treated as reclaimed water. The condenser can be made of S S2205 or P TFE material .
加热器 ▲ Heater
,用蒸汽加热,疏水进入除氧器回收利用。 The heater is arranged between the wet electricity and the chimney , is heated by steam, and drains into the deaerator for recycling. 5 ℃的烟气加热到7 5 ℃, 即可消除白烟 。 White smoke can be eliminated by heating the flue gas at 45 ° C to 75 ° C. S2205或 N D钢材质 制造。 The heater can be made of S S2205 or ND steel .
冷却塔 ▲ Cooling tower
单独制造,也可以利用电厂原有的冷却塔。 The cooling tower can be manufactured separately with ordinary FRP material , or the original cooling tower of the power plant can be used. Circulating water must be monitored and treated to avoid condenser structure or blockage. 8 -- 46 ℃,由于与烟气温差小,冷凝器需要很大的换热面积。 The temperature of the inlet and outlet water of the cooling tower of the power plant is generally 3 8-46 ℃ in summer . Due to the small temperature difference from the smoke, the condenser needs a large heat exchange area. 2 - 40 ℃。 The water temperature of a separate cooling tower in summer can be lower, such as 3 2-40 ℃.
20t/h 锅炉湿烟气在 5 0 ℃ 降到 4 5 ℃ 时 ,再加热到 7 5 ℃ ,系统主要参数如下表: 2 When the wet flue gas of a 20t / h boiler is reduced from 50 ° C to 45 ° C , it is heated to 75 ° C. The main parameters of the system are as follows:
| | | | | |
| --- | --- | --- | --- | --- |
| project | unit | Flue gas condenser | Flue gas heater | Cooling Tower |
| Flue gas inlet and outlet temperature | ℃ | -- 45 50-45 | 5--75 4 5--75 | 2 -- 40 Water 3 2-40 |
| Media type |   | Recycled water | steam | Recycled water |
| Media parameters |   | 0 ℃ 2 0 ℃ | .8MPa250 ℃ 0 .8MPa250 ℃ |   |
| Media flow | /h t / h | Water 622 | 7 | 22 Water 6 22 |
| Heat transfer | W K W | 5800 | 3560 |   |
| Heat exchange element |   | S2205 S S2205 | S2205 翅片管 S S2205 finned tube | FRP |
| Heat exchange area | M2 | 2100 | 000 1 000 |   |
| equipment weight | t | 40 | 18 |   |
| Module smoke resistance | Pa | 400 | 160 | |