Mr. Tu
Phone: 13919106009
Email: tujianhua@126.com
Sales Manager
Mr. Lin: 0571-87605270
0571-88834281
Email: 570989546@qq.com
Fax: 0571-88834281
address: Room 1105, Building 8, Taihe Plaza, Shangcheng District, Hangzhou, Zhejiang Province

Flue gas reheating and gas heating device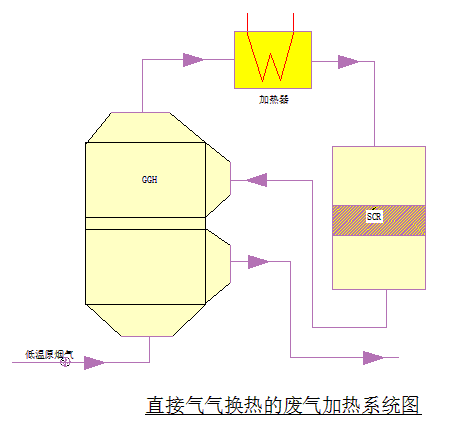 Tube regenerator
。 The tubular flue gas regenerator refers to a tubular direct gas-to-gas heat exchanger . , 或者烟气温度太高 , 超过 3 00 ℃ 时 , 可采用烟气回热器。 When the flue gas flow is small or the temperature of the flue gas is too high , when it exceeds 3 00 ℃ , a flue gas regenerator can be used.
Media type regenerator (MGGH)
(水或者导热油)为循环载热介质,利用烟气余热预热烟气的回热设备,包括烟气冷却器和烟气加热器及循环系统等设备。 The medium gas-gas heat exchanger uses the medium (water or heat-conducting oil) as the circulating heat-carrying medium and uses the flue gas waste heat to preheat the flue gas, including flue gas coolers, flue gas heaters, and circulation systems. . GGH )体积小,阻力小,便于烟道布置,成本低,因此优于回热器。 In the case of a large amount of flue gas, the medium heat exchanger ( MGH ) has a small volume and a small resistance, which is convenient for the layout of the flue and the cost is low, so it is better than the regenerator.
、 烧结机烟气 等无法进行高尘脱硝的情况下,低温烟气需要重新加热到适合脱硝的温度,如中温脱硝的 2 60 - 280 ℃ 和低温脱硝的 1 80 - 220 ℃ 。 When high-density denitrification is not possible for waste incineration flue gas and sintering machine flue gas , low-temperature flue gas needs to be reheated to a temperature suitable for denitrification, such as 2 60-280 ℃ at medium temperature and 1 80-220 ℃ at low temperature. . M GGH 回收 , 最大限度地减少燃料消耗 。 After the reaction, the high-temperature flue gas waste heat can be recovered through M GGH , which minimizes fuel consumption . ,可 用导热油为媒质的 M GGH , 换热元件为碳钢翅片管 。 At this temperature , M GGH can be used as the medium of heat transfer oil , and carbon steel finned tubes are used as heat exchange elements .

The tail denitration flue gas heating system includes three parts: flue gas heater, flue gas cooler, and gas heater.  
  In order to reduce the amount of heat-conducting oil and lower the pressure head of the oil pump, the high-temperature part can be heat-exchanged with heat-conducting oil, and the low-temperature part can be exchanged with water as the medium, which is the most economical.

Gas heating device
, 可用天然气 、 高炉煤气 、 焦炉煤气等 。 The gas heater is used to raise the flue gas temperature to the denitration temperature . Natural gas , blast furnace gas , and coke oven gas can be used . , 氧浓度高于 1 5 % 时 , 用内置式燃气加热器 , 不需要鼓风 ; 氧浓度低于 1 5 % 时 , 用外置式燃气加热器 , 需要鼓风助燃 。 The gas heater is a flue-type structure . When the oxygen concentration is higher than 15 % , the built-in gas heater is used , and no blast is required ; when the oxygen concentration is lower than 15 % , the external gas heater is used , and blast is required to assist combustion .