Mr. Tu
Phone: 13919106009
Email: tujianhua@126.com
Sales Manager
Mr. Lin: 0571-87605270
0571-88834281
Email: 570989546@qq.com
Fax: 0571-88834281
address: Room 1105, Building 8, Taihe Plaza, Shangcheng District, Hangzhou, Zhejiang Province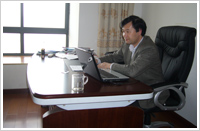 Hangzhou Dika Energy Technology Co., Ltd.
is a high-tech enterprise specializing in the research and development, sales and service of energy saving and environmental protection technologies and products. Deca, which means reducing carbon dioxide, is short for "Decrease the Carbon dioxide". The company takes technology as the core and is market-oriented. Through intensive operations, it provides users with value-for-money products and services.
The company was founded by a group of senior energy and environmental protection experts. Among them, Dr. Tu Jianhua is a long-time expert and researcher engaged in energy technology, power engineering, environmental protection and other technical research and engineering applications in the power industry. The company is positioned as a superb technological pioneer in thermal energy saving and environmental protection.